Author: Rihab ABBA
The African Association of Business Schools (AABS) Connect Conference 2022 was held at ESCA Ecole de Management's new campus at the heart of Casablanca Finance City Morocco from June 15th to 17th 2022. This year the event has drawn around the table more than a hundred deans from African Business schools to discuss the hot topic of Sustainable Africa: How can African Business Schools Contribute to a Greener and More Inclusive Growth on the Continent?




This is a crucial topic in a world that is undergoing an ever-growing level of VUCA coupled with increasing ecological disorders global economic and health crises social and political turmoil.
The African continent is even more challenged by this situation especially when it associates with disruptions related to the 3 dimensions of sustainability: SOCIAL ENVIRONMENTAL and ECONOMIC. Africa is actually witnessing a rise in social disparity climate severity and economic strain.
Addressing the sustainable development challenges in Africa has become a top priority. We have no other choice but to respond to the call for action. All stakeholders need to address the sustainability issue and business schools are major players in this dynamic because they have the opportunity to both inform decision making on sustainability action and shape future generations of managers and business leaders and managers.
On the specific panel "Educating for Sustainability: How to Cultivate the Next Generation of African Business Leaders ?" a set of illustrious speakers highlighted the role of educators and business schools in driving a safe transition to a more sustainable and livable Africa. By sharing their respective experiences within their institutions the guests helped better understand the types of strategies and actions that African business schools might undertake to prepare the next generation of responsible business leaders.
More than a theoretical debate they aimed at opening the floor for actionable recommendations to move the continent forward on the sustainability path.
The panelists were namely:
- Mrs Evelyne Gross International Accreditations and Sustainability Expert Valorization and Transfer Committee Co-Coordinator at COLIFRI France (Franco-Colombian Association of Researchers)
- Dr Sam February Head of Department at Graduate School of Business Nelson Mandela University (South Africa)
- Professor Marcus Mueller professor of Management and Director and Founder of Sustainability in Action at Sacred Heart University (based in USA and Luxemburg).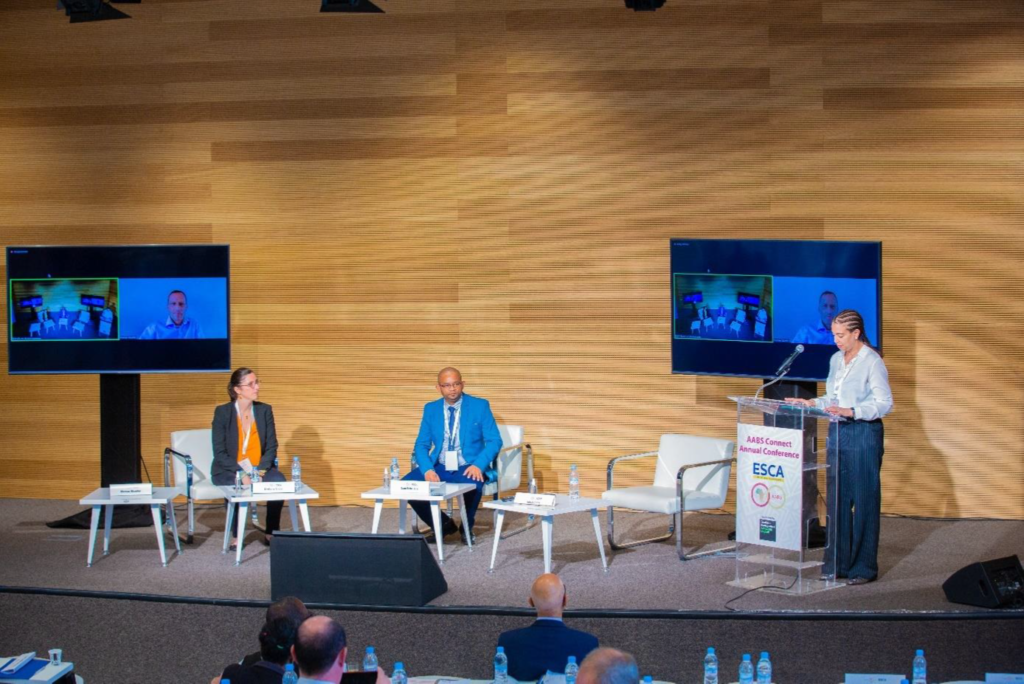 The first question discussed how business schools might rethink themselves to prepare the next generation of business leaders. What works best? a top-down or a bottom-up approach? What role can top management play in this dynamic? How can the tone be set within the institution? It appeared that the role of top management is paramount because it can guarantee that strategies will be transformed into actions and make sure to involve all stakeholders by creating a positive feedback loop and increase awareness within the institution.
A second question addressed the level of commitment of the next generation compared to its their predecessors/educators. How can we rethink our curricula to infuse sustainability in every subject we teach? This requires a high level of involvement from faculty which also requires training programs to be implemented. The outcome will be a capacity building process for faculty and academics.
A third question was related to the actions to help business schools move forward with their curricula and extracurricular activities. How important is the role of life on campus to engrain sustainability mindset ? How do we use extracurricular activities to have a better impact on students? Several techniques were shared based on the experiences from the panelists themselves and from the audience of deans. They boiled down to fostering students projects that engage with their communities at social environmental and economic levels.
Besides these questions it was important to link the multiples initiatives from business schools with the 17 Sustainable Development Goals (SDGs) that all the United Nations member states agreed on in 2015 when they adopted the 2030 agenda for Sustainable Development.
To make this agenda a reality all stakeholders must strongly commit to implement these global goals:
1- No poverty
2- Zero hunger
3- Good health and well-being
4- Quality education
5- Gender equality
6- Clean water and sanitation
7- Affordable and clean energy
8- Decent work and economic growth
9- Industry innovation and infrastructure
10- Reduced inequalities
11- Sustainable cities and communities
12- Responsible consumption and production
13- Climate action
14- Life below water
15- Life on land
16- Peace justice and strong institutions
17- Partnerships for the goals

https://sdgs.un.org/goals

The panel addressed the following questions: What do your institutions do to match the UN 17 Sustainable Development Goals (SDG)? Where is the impact of your institutions' activity on sustainability? Through which SDGs do you impact sustainability? What challenges do you face when applying sustainability-oriented actions? What solutions could be applied to overcome these challenges ? Both speakers and panelists shared their best practices in terms of sustainability strategies and actions within their respective institutions linked with specific SDGs. At ESCA Ecole de Management for example SDG 5 (Gender Equality) is one of the key drivers for a whole research program called "Feminine Entrepreneurship". Another example is SDG 17 (Partnership for the Goals) which is impacted by the connectivity that AABS Connect Conference itself fosters bringing together Business Schools' deans and directors from the African continent as well as educators UN activists and change makers from all around the world.